9 Best Dog-Friendly Beaches in Rhode Island
As dog lovers, we always love to take our dogs with us. Whether traveling towards the hills or a sea beach, We love to spend quality time with them. Their companionship makes us lighter and happier.
This time we explored some dog-friendly beaches in Rhode Island. The best thing about Rhode Island is its hospitality and dog-friendly atmosphere. In this article, we will share some glimpses and insights that will help you to schedule your journey to these beautiful dog-friendly beaches near Rhode Island. Read the entire article to learn about the best dog-friendly beaches in Rhode Island.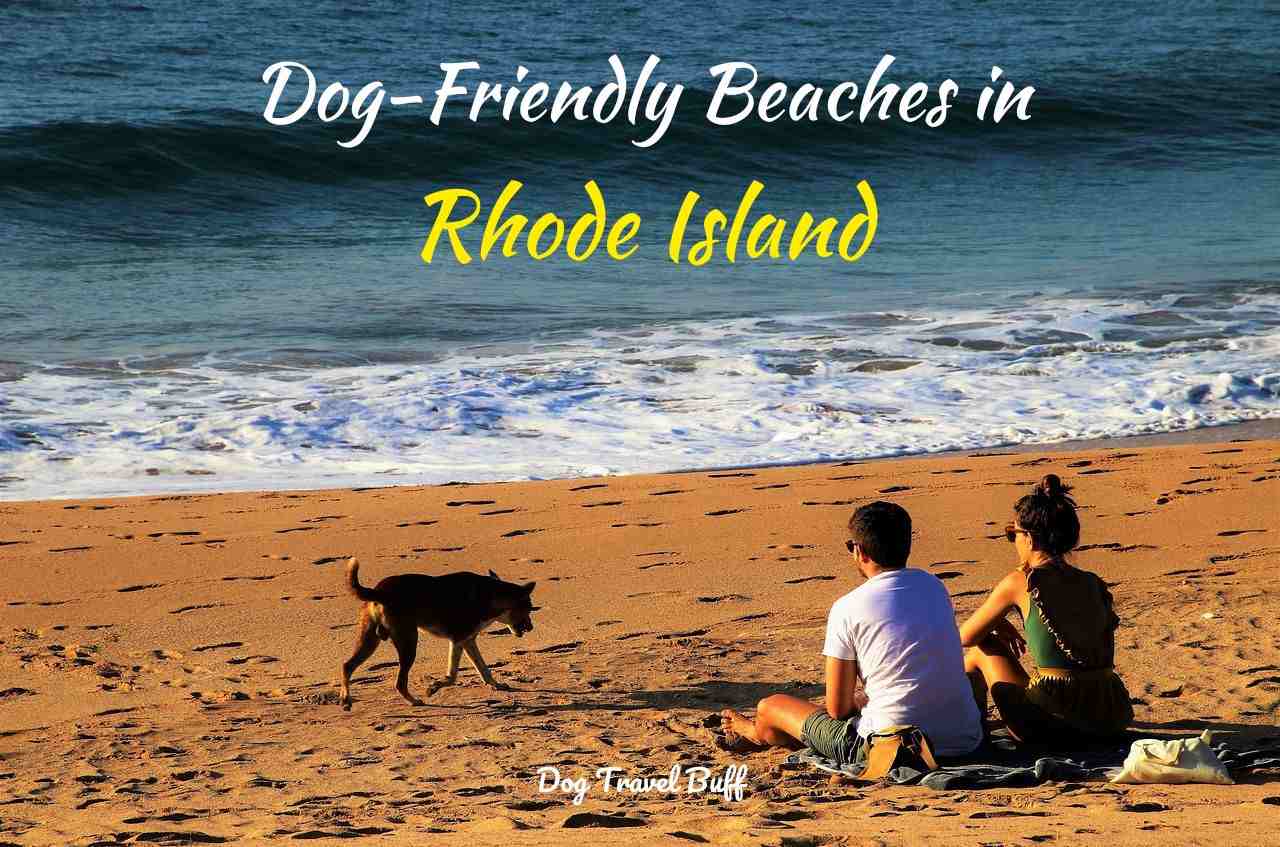 This post may contain affiliate links. If you buy something through one of those links, you won't pay any extra penny, but I'll get a small commission that encourages me to deliver more helpful content for you.   
Rhode Island is one of the smallest states in the USA, but it is popular for its great fun activities, marine life, and dog-friendliness. This place is a hidden gem for people who often want to take their dogs out with them.
From pet-friendly parks to dog-friendly restaurants, everything is bright and cheerful. If you plan to spend some quality time, there are plenty of restaurants and hotels where you can keep your dog safe.
If you are in Rhode Island with your dog and thinking about what beaches are dog friendly in Rhode Island, then Check out these beaches in Rhode Island that allow dogs.
1. Compass Rose Beach
Location: North Kingstown, RI 02852-1347 Roger Williams Way
There are many pet-friendly beaches in Rhode Island, but you must visit the first one, Compass Rose Beach. This is one of the oldest seaplane beaches at Quonset Point. This place is highly popular for its wide beach area.
Here you will find a lot of people doing business with Hobie Cats. This beach faces south. As a result, most of the time you will see people surfing on the sea. On this beach, there is no shadow, so once you get onto the beach, keeping your belongings inside the car, you will no longer be able to find any rest area. So get prepared for that.
From here, you can go towards Wickford Harbor to roam around. Towards the east side, you will get the port area of the Quonset region. Here you will find a lot of vessels on the sea. Most of the day, the southwest wind hits this area strongly, as a result, you will feel the strong wind and waves.
Dog Rule: There are no restrictions for dogs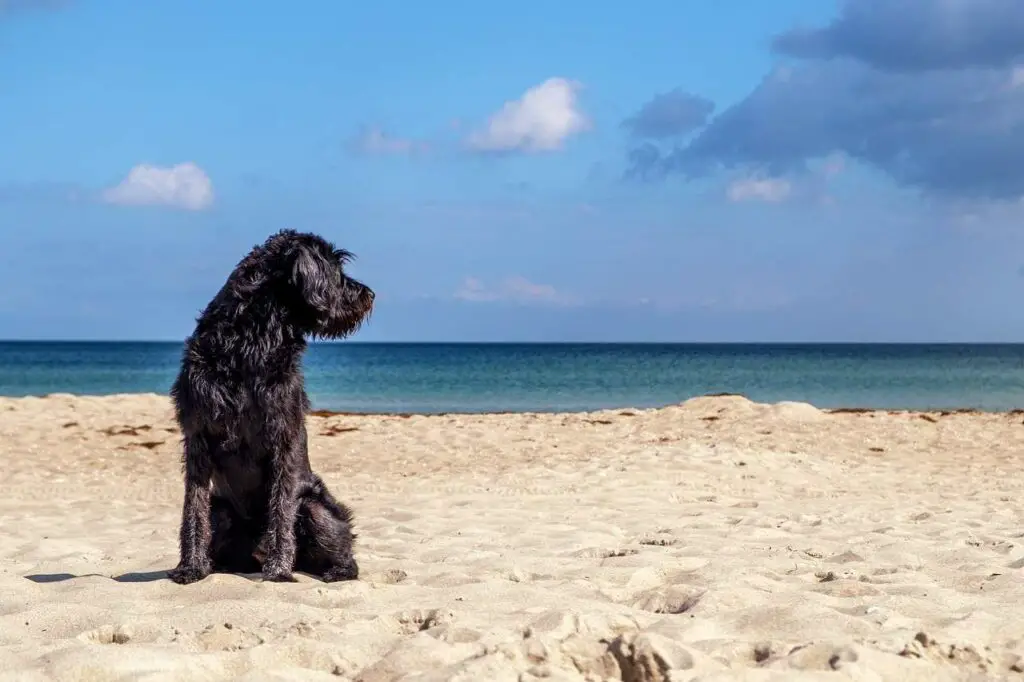 2. Sachuest Beach
Location: 315 Sachuest Point Road, Middletown, RI 02842.
Do you love the soft white sand beneath your feet? Then come to Sachuest Beach. The wide beach welcomes you all the time throughout the year. There are two options available if you want to walk with your pet along the shoreline.
First, you can walk with your dog by the coastline, and another option is a wooden pathway. Yes, there is a wooden pathway that people usually use for their morning walk. Walking with your pet in the morning sunshine will rejuvenate your stagnant energy.
Sachuest beach is mostly known for its dog-friendly atmosphere. You will encounter many people who come for walks with their dogs! On this beach, your dog can play around without any problems, but make sure your dog is on a leash. May 1 to September 30 is the peak time. During this time, you cannot enjoy the beach peacefully.
Dog Rule: From Memorial Day to Labor Day, dogs are only permitted on the beach from 5 a.m. to 7:45 a.m.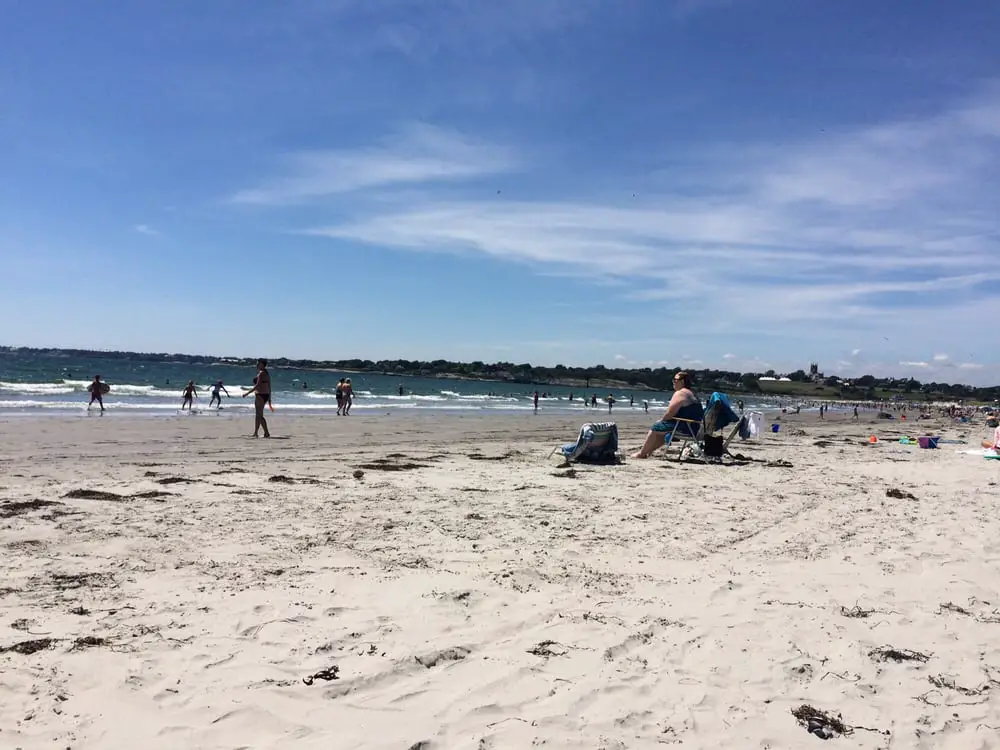 3. Beach at Charlestown
Location: 557 Charlestown Beach Road, Charlestown, Rhode Island 02813
Situated at Charlestown Beach Road, this is a south-facing beach. People visit this beach for its historic harbors. Here you can roam around with your furry friend. You can see this beach with your pal at any time of the year except from April 1 to October 31.
During this time, people come from the neighborhood and make the whole area becomes a little crowded, so your dog is not allowed at that time, but apart from this time, you can visit this beach.
Apart from its historic harbor, there are many dog-friendly activities available that you can enjoy. There are many old museums, local galleries, and public parks available where you can find the local culture. If you love local seafood and cuisines, you can go to The Nordic, Dave's Cafe, Breachway Grill, The Cove Restaurants, and others.
Dog Rule: Dogs are permitted on the beach off-leash. 5–10 a.m. From May 1 to September 30.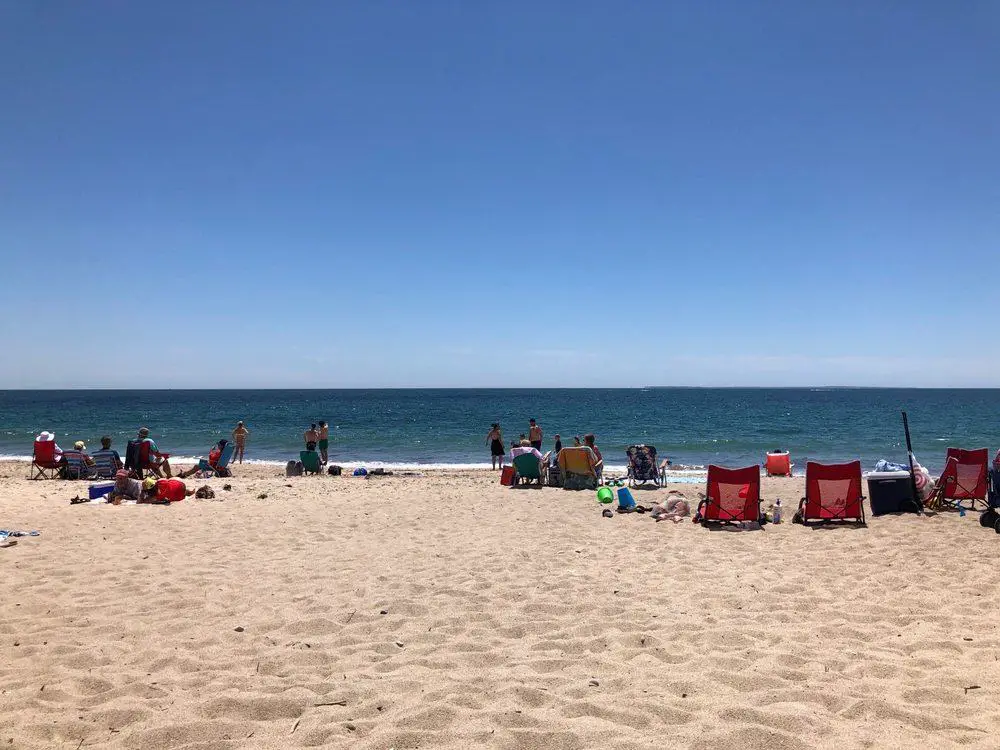 4. Easton's Beach
Location: 175 Memorial Boulevard, Newport, RI 02840
Easton's beach is well-situated for both tourists and locals. This beach is only a few meters from Newport's famous Cliff Walk and minutes from Downtown Newport.
Newport has a stunning coastline and numerous public beaches to enjoy the sand, surf, and sun. Locally called First Beach, Easton's Beach is the largest of these beaches. Located on Memorial Boulevard at the beginning of the city's renowned Cliff Walk, Easton's Beach is a three-quarter-mile stretch of Atlantic-facing sand with a boardwalk.
If you visit this place with your dog by car, you don't need to worry about the parking area, but make sure to get the pass before that.
Pet Rule: Only during the off-season, which runs from Labor Day to Memorial Day weekend, dogs are permitted on the beach. Your dog must be on a leash.
5. Fred Benson's Town Beach
Location: 7 Corn Neck Road, New Shoreham, RI 02807
The east coast of Block Island, north of Old Harbor, has a long beach that is the easiest and most popular place to get sand, sea, sun, and fun. On Corn Neck Road (map), Fred Benson Town Beach is a wide, flat beach with fine white sand, a gentle slope into the water, and just enough low waves to keep it interesting.
A lot of teenagers and families hang out at Fred Benson Town Beach. The best thing about the beach is you can get into this beach with your dog and your furry pal can roam off-leash.
Pet Rule: Your dog can roam off leash.
6. Mohegan Bluffs
Location: 121 Mohegan Trail, New Shoreham, RI 02807.
If you walk with your pet along the Block Island Heritage Trail, you will end up at Mohegan Bluffs. Photographers are drawn to these beautiful, grass-covered bluffs 200 feet above the water.
Three miles away, you can see clay cliffs that go down to light brown sand and into the ocean. If you want to get some cardio in for the day, you must walk down the stairs to the beach. You'll have earned a few hours of relaxing in the sun, kicking up sand while jogging on the beach with your pet, or barking and screaming during a fun water fight.
A ferry service will take you and your pet to the port, and then it's only a two-mile trek to the beach. Most people go to the beach to take pictures, but this is a popular place for dogs to hang out and enjoy the beach.
Pet Rule: Dogs are allowed but must be on a leash.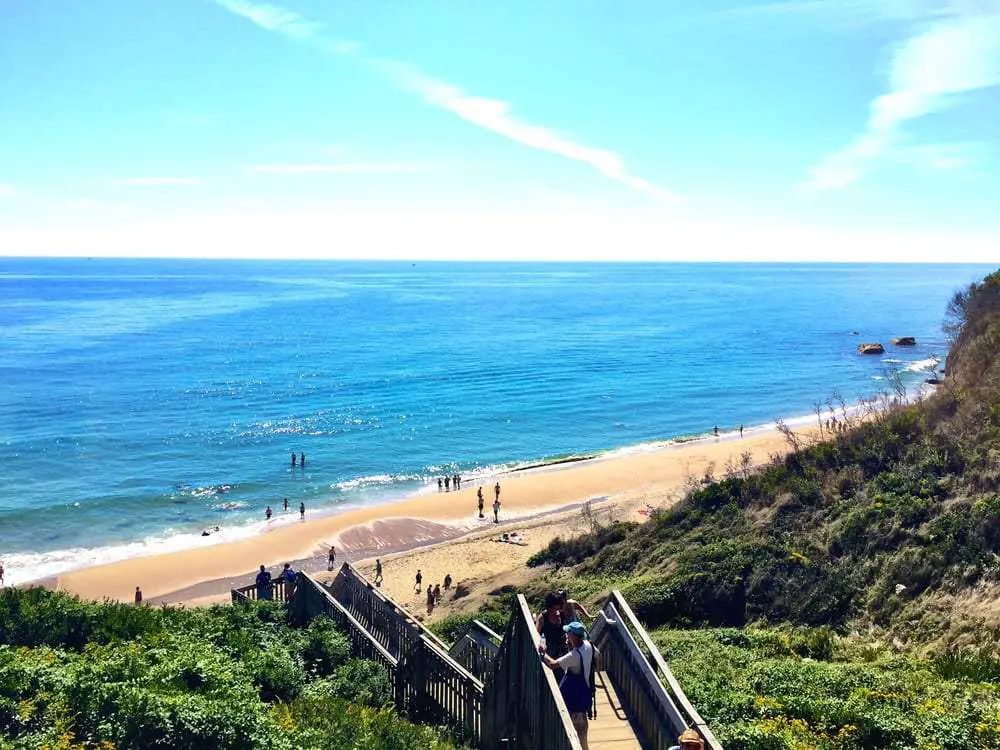 7. Ballard's Beach
Location: 42 Water St., New Shoreham, RI 02807
Ballard's beach is one of the first places you'll see near the main ferry port on Block Island, in case you can't hold back the excitement any longer. Ballard's beach has been a favorite place for dog-friendly fun on Block Island since it was first opened in 1956.
It has grown into a big resort with rooms, a restaurant, and a beach where dogs are welcome. So, rent beach chairs and umbrellas and spend a few hours on the sand. Play in the ocean for the first hour while taking pictures.
In the next hour, you can sunbathe on the soft sand and wait for the beachside restaurant to bring you seafood or steak. Ballard's beach often has concerts on the beach, which you can enjoy with your pal.
During the off-season, from October 1 to March 31, dogs can go to the beach. But they have to stay on a leash while they're there.
Pet Rule: You can take your dog to this beach from October 1 to March 31 of each year.
8. Conservation Area of Napatree Point
Location: Westerly, Rhode Island 02891 Fort Rd
The coast of the Napatree Point Conservation Area is 1.5 miles long. It has many beaches, like East Beach, Watch Hill Beach, and Merry-Go-Round Beach. Your pet will have plenty of room to sniff around on the wide beach.
You can get to the beach from one of the nature trails and wash off in the calm waters of Little Narragansett Bay. Take your dog for a walk on the beach, where you can see Long Island, New York, and the historic Watch Hill Lighthouse in the distance.
Pet Rule: Dogs on leashes are only permitted on the beach from 6 p.m. to 8 a.m. from May 2 until Labor Day.
9. East Matunuck State Beach
Location: South Kingstown, RI 02879, 950 Succotash Rd
East Matunuck State Beach is the best place to go to the beach when you are in Rhode Island. Pet owners who are looking for a beach getaway in Rhode Island can visit this state beach. So, take a ferry to Block Island and make yourself at home on the golden coast.
The sun shows its golden hues as the sand slopes into the Block Island Sound in the middle of the day. Since the waves here are bigger than at other dog beaches, it's best to keep an eye on them on a leash while they play in the water. When you walk along the tide line, you never know if the waves will come up the shore and wash over your feet.
Let your pet join you at the beach for some fun. Bring some dog toys for it to play with and chew on. Give them a day off from having to clean their fur and let them roll around in the sand. You can take it easy on the beach and watch the ferries coming to Block Island and the boats leaving Port Judith Harbor of Refuge.
Pet Rule: Your dog must be on a leash.
Read Also: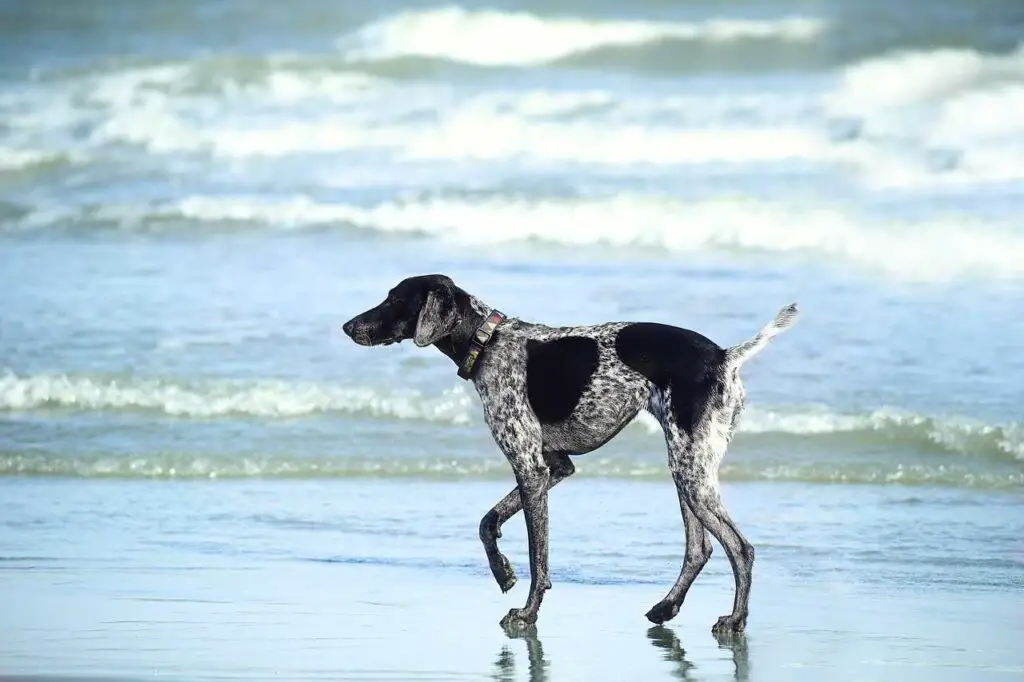 Dog-Friendly Restaurants in Rhode Island
1. O'Brien's Pub
O'Brien's Pub is in the middle of Newport, Rhode Island. This Pub allows dogs and has a large garden where people can meet for drinks, lunch, or dinner. On the menu, there is a lot of delicious food: soups, salads, burgers, sandwiches, freshly grilled pizzas, and main dishes. There are also a lot of domestic and imported beers, frozen drinks, and coffee.
2. Chomp Kitchen and Drinks
In Warren, Rhode Island, Chomp Kitchen and Drinks is a dog-friendly restaurant where Fido can join you on the gravel patio. The House burger is a local favorite. It has smoked Gouda, house-cured bacon, Chomp Sauce, lettuce, tomato, and pickles.
Pet-Friendly Hotels in Rhode Island
1. Old Town Inn
In New Shoreham, 1.6 km from Fred Benson Town Beach, the Old Town Inn offers rooms with a shared lounge, free private parking, a garden, and a tennis court. About 1.8 km away is Baby Beach, 2.4 km away is Mosquito Beach, and 700 meters away is Block Island. The hotel has a terrace, a front desk that is open 24 hours a day, and free WiFi.
In Newport, the Pelham Court Hotel is 1.2 km from King Park Beach and 1.7 km from Easton's Beach. It has free WiFi, air conditioning, and access to a garden.
The units have parquet floors, a fully equipped kitchen with a dishwasher, a dining area, a flat-screen TV with cable channels, and a private bathroom with a shower and a hairdryer. There is also a coffee machine, as well as a microwave, a fridge, and an oven.
Read Next:
FAQ: Pet-Friendly Beaches in Rhode Island
1. Can I bring my dog to Misquamicut Beach?
A: You can't bring any pets to Misquamicut Beach. You're not allowed to bring alcohol, glass, smoke, camp in an RV, or set up a tent.
2. Are dogs allowed on Watch Hill Beach, RI?
A: Yes, dogs are permitted from 6:00 p.m. to 8:00 a.m. from May 2 to Labor Day.
3. Do you have to pay to get into Misquamicut Bay?
A: No, you don't need to pay anything, although there is a parking fee.