8 Stunning Dog-Friendly Hikes Near Denver
Do you love the hike to the mountains with your dog to witness endless views of the surrounding? Colorado is one of the most beautiful states in the South Western United States. It offers majestic views of alpine lakes nestled far into the wilderness to the dark green canopy of pine forests or aspen groves, or big dunes.
Denver is also called "Mile High City" which is the capital and nestled one mile above sea level. Denver Hikes with dogs require a little more stamina due to their elevation and low oxygen. But, I guarantee it's not something to worry about because it's little "just going for a walk".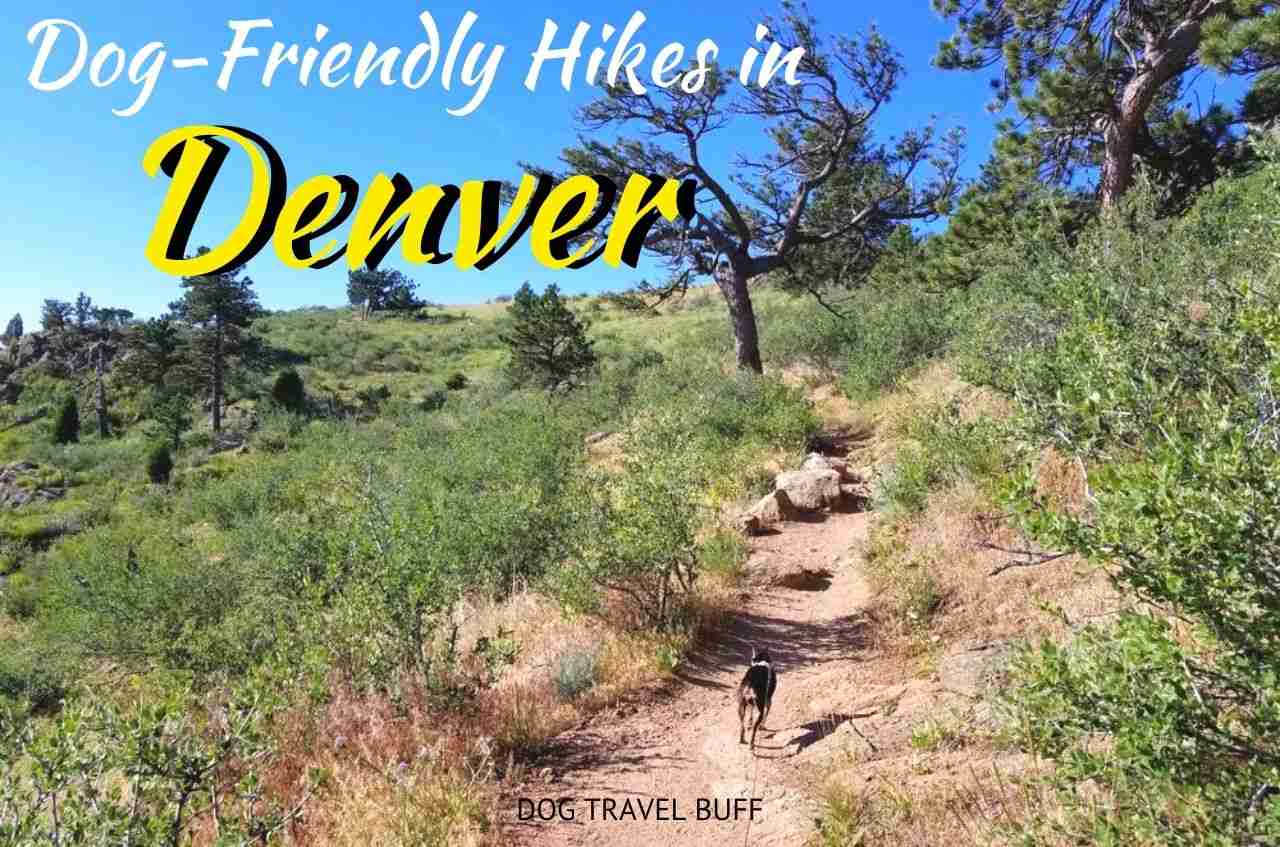 This post may contain affiliate links. If you buy something through one of those links, you won't pay any extra penny, but I'll get a small commission that encourages me to deliver more helpful content for you.
In Denver, countless epic hiking spots will keep your dog and you amazed with its majestic views and outstanding beauty. 
Here, you can check out these 8 dog-friendly hikes near Denver which are considered as the best hikes with dogs among pet lovers. 
List of The Best Dog-Friendly Hikes Near Denver
There are various levels of dog-friendly trails in and around Denver where the weather is cool and alpine vistas are accented with beautiful colors and the experience is majestic. You can spend a million hours with each other in peace and can do a lot of exercises together. 
Make sure you get a good quality dog carrying affordable backpacks while hiking because precautions are better than cure. Yes, I'm saying here in a different sense but trust me it's important for your pup's safety. 
Now let's start our hike! 
1. Elk Meadow Park 
Distance from Denver: 45 minutes drive 
Distance: 2.6 miles 
Elevation Gain: 593 feet 
Difficulty: Easy 
The whole loop combines the Meadow View Trail, Elk Ridge Trail, and the Sleepy's trail and that leads to the summit of Bergen Peak.
Elk Meadow Park is a great dog trail in Denver to witness great views and beautiful meadows, wildlife, an old barn, and long ponderosa pine. From the south parking area, you have to walk 2.6 miles and on the way, your dog will meet many small and big dogs just like him. 
Just beside the street of the south parking area, there was an off-leash Dog Park which allowed dogs to roam and play how much they wanted. Unfortunately due to excessive dog waste and damage to plants around, it's closed by the authorities.  
Click here if you want to know how to train your dog to hike off-leash.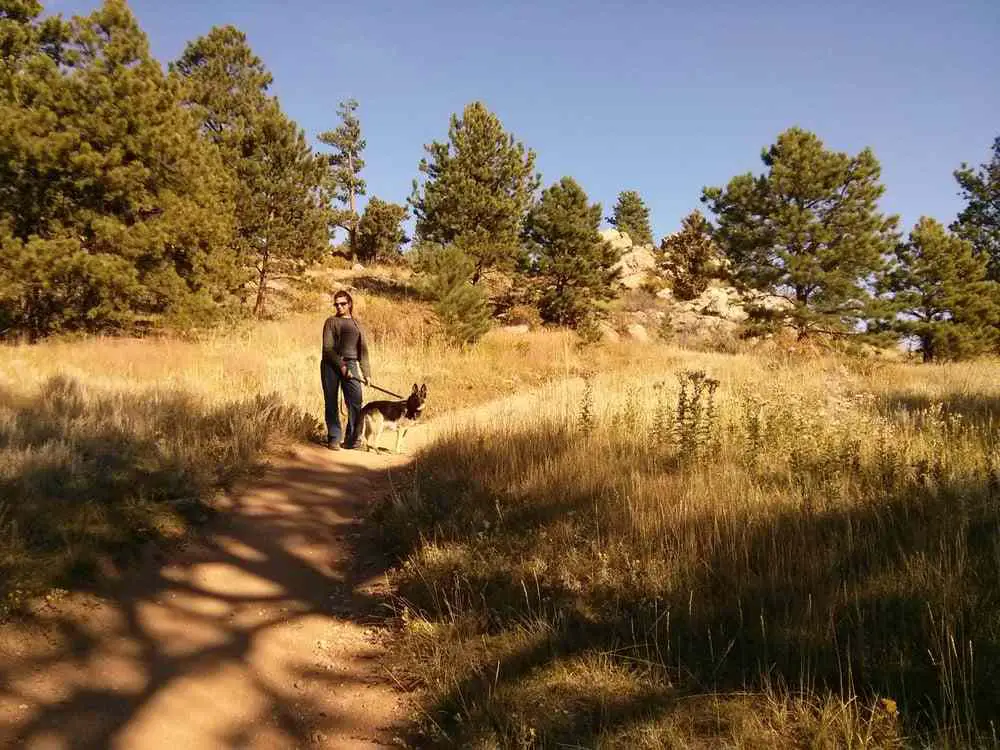 2. South Valley Park
Distance from Denver: 30 minutes drive 
Distance: 0.3 miles to 3 miles 
Elevation Gain: 804 feet 
Difficulty: Easy 
South Valley Park is a great dog-friendly hike near Denver near the neighborhood of Ken Caryl which is surrounded by Red Rock along the east and lush green foothills to the west. 
If you're looking for flat terrain with dramatic and stunning views of red sandstones and craggy outcroppings then these dog-friendly trails near Denver are perfect for you. North-west of the park is termed as a "Sensitive Area" which is closed to the public for wildlife protection.
For enchanting views of the meadow, start your hike from South Valley Park Coyote Song Trail, which also connects with the Swallow Trail. From Coyote Song Trail take Lyons Back Trail and hike more to reach Red Rock which is developed by the Ken-Caryl Ranch foundation.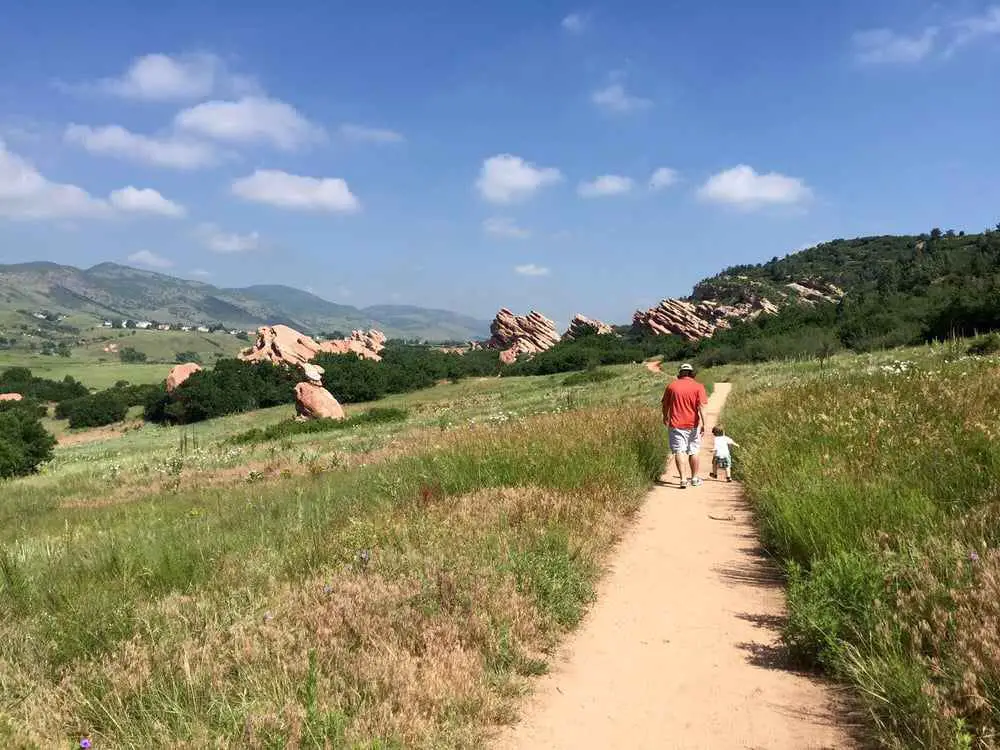 3. Mayflower Gulch
Distance from Denver: 1 hour 23 minutes drive 
Distance: 6.1 miles 
Elevation Gain: 575 feet 
Difficulty: Easy to Moderate 
Mayflower Gulch Trail is a pet-friendly hike in Denver that climbs through fir forest before coming out into alpine terrain at some old mining cabins. 
This moderate hike with your dog is all worthy when you reach the top and witness paradise in front of your eyes. You can explore the creek, canopy, views of the Rocky Mountains, and scenic views of Mayflower Gulch. 
In winter Mayflower Creek offers breath-taking panoramic views full of the gulch which is covered by snow and your pup loves to play around. This is an amazing hike and one of the famous and most scenic winter hikes in Denver.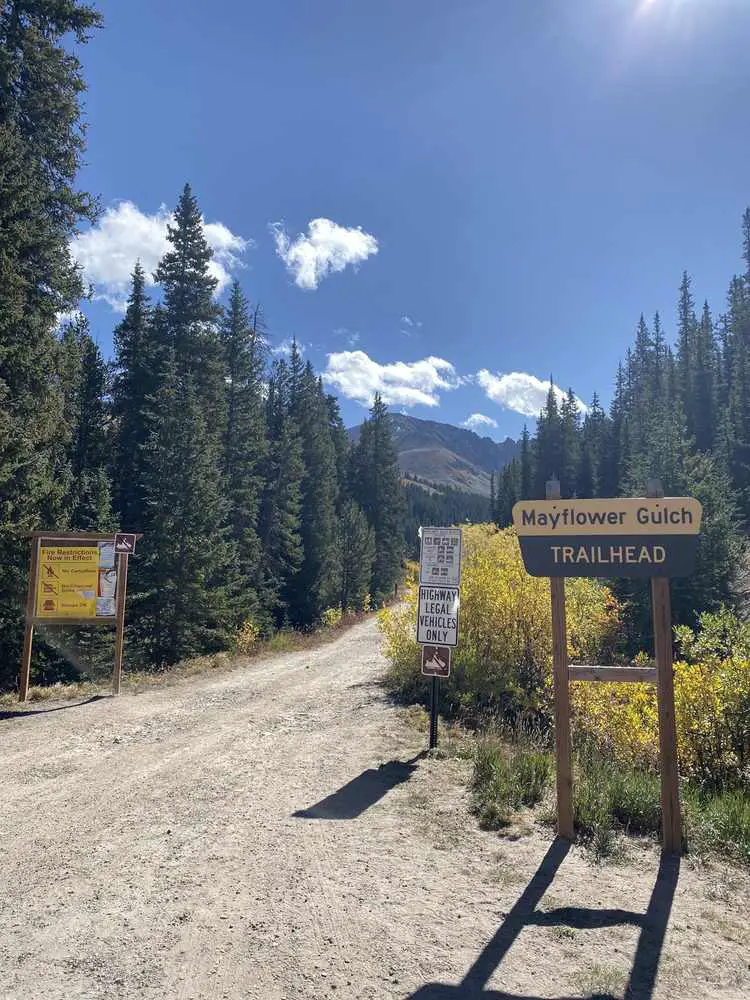 For Moderate or Difficult Hiking Trails:
4. White Ranch Park
Distance from Denver: 45 minutes drive
Distance: 2 Miles 
Elevation Gain: 938 feet 
Difficulty: Medium 
White Ranch Park offers you a network of trails, The Colorado trail that begins from the foot of the hills, the Rawhide trail lays on the edge of a vast meadow, and many more.
White Ranch Park is an easy dog-friendly hike around Denver that offers stunning views of the city during the golden hour. The sunset in the west makes the sky look dramatic making you grateful to bring your dog along with you. 
On the way, you will encounter a tranquil meadow punctuated with ponderosa pine and wildflowers. Ralston Buttes is a unique geologic formation in this park. This loop provides you with a lot of time to spend with your dog making it the most memorable one.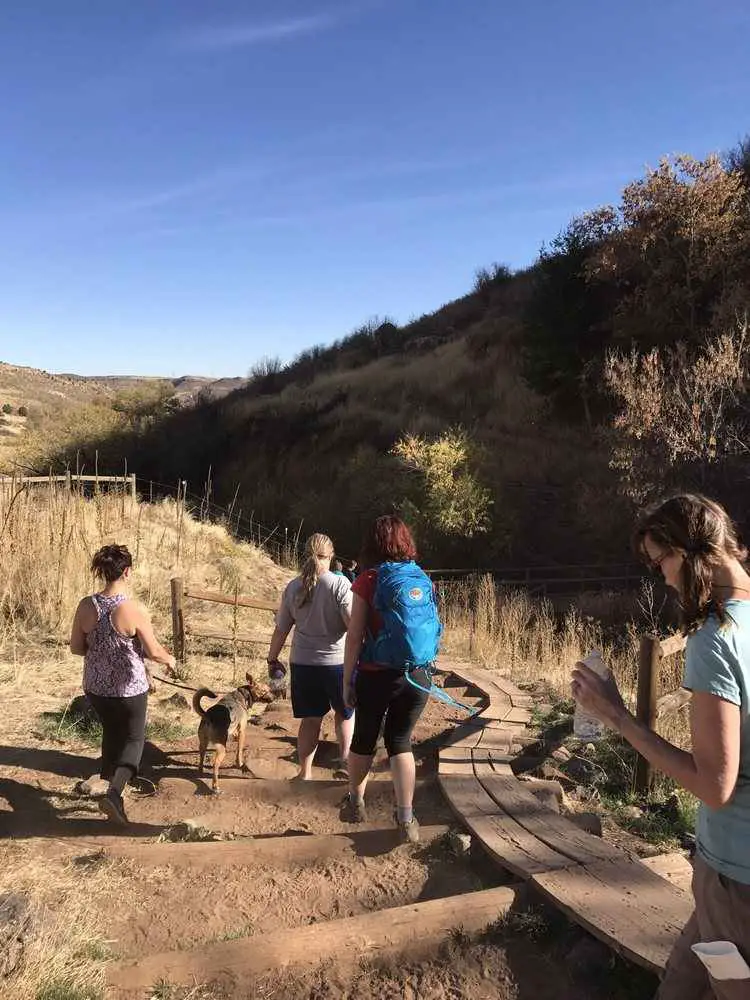 5. Herman Gulch
Distance from Denver: 58 minutes drive 
Distance: 6.3 Miles 
Elevation Gain: 1,755 feet 
Difficulty: Moderate 
The Herman Gulch trail is a famous dog-friendly hike near Denver which has two trails, one for Herman Gulch and the other for Watrous Gulch.
It is a perfect trail to witness impressive mountain, beautiful alpine lake scenery views with dramatic wildflowers around it. North towards Pettingell Peak and behind Herman Lake is an ideal spot to rest back with your dog and enjoy the view wholeheartedly. The hike is moderate, so if you think your dog is not capable of hiking this trail, you can bring a dog stroller. Check out our detailed buying guide of the best dog strollers for hiking.
If you are looking for dog-friendly winter hikes in Denver then the Herman Gulch is a great choice. It's popular among backcountry skiers and riders. If you are coming here in winter then wear your snowshoes, microspikes, and bring other essentials for your pup.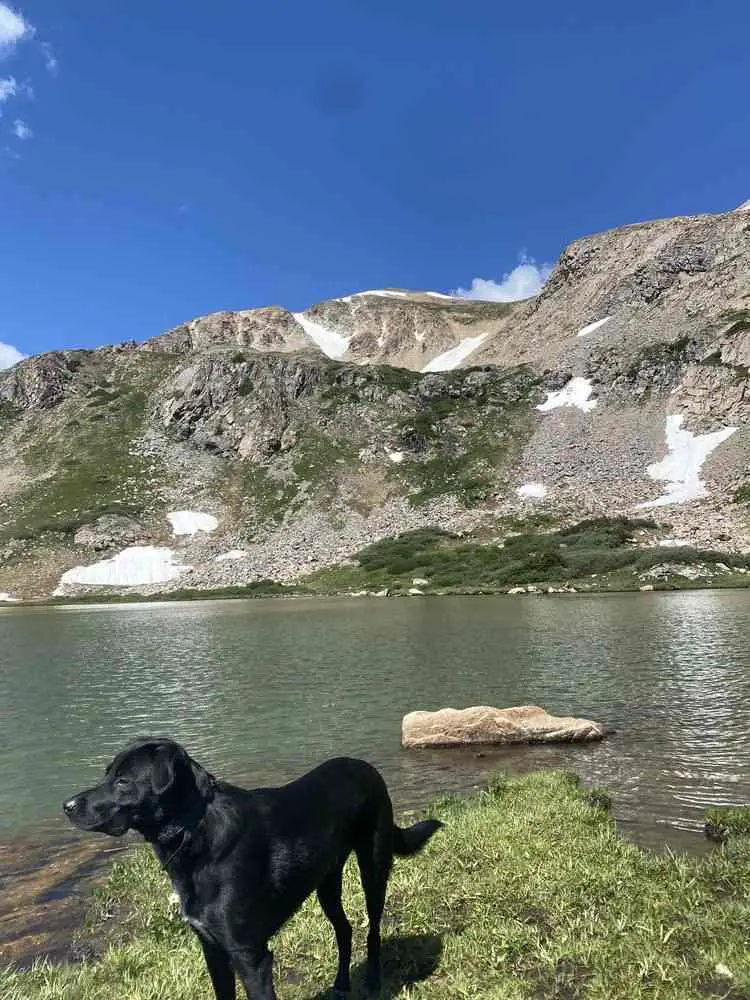 6. Mount Sniktau
Distance from Denver: 1 hour 7 minutes' drive
Distance: 4 miles 
Elevation Gain: 1,800 feet 
Difficulty: Strenuous 
Looking for a strenuous Denver dog-friendly hike? Mt Sniktau hiking trail is perfect for you. You can also explore Cupid Peak and Grizzly Peak D trails. 
Mount Sniktau Trail is a 3-mile hike in Arapaho National Forest best known for hiking and snowshoeing. If your dog is physically fit then he will love the elevation gain and the time watching the sunset over the Rockies with you. You can see Quandary Peak, other mountain ranges, and Mt Bierstadt from the top.
This place is extremely windy but once you reach the top, the view is extremely beautiful and mesmerizing.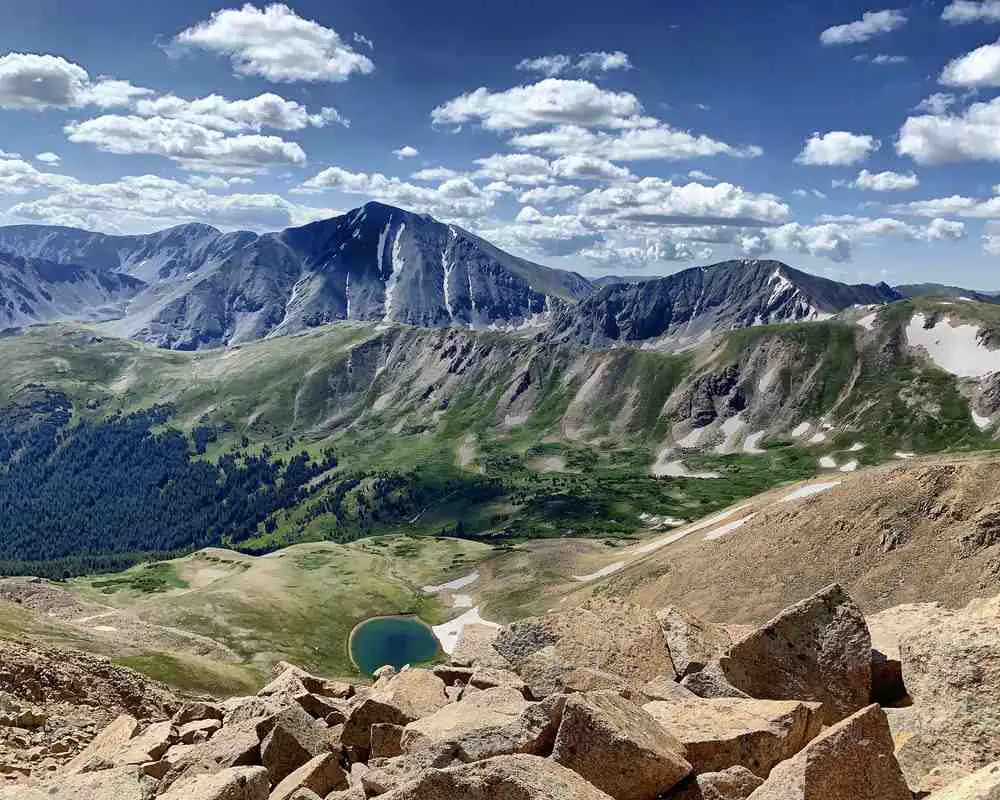 7. Mt. Galbraith Loop via the Cedar Gulch Trail
Distance from Denver: 30 minutes' drive  
Distance: 4.9 Miles 
Elevation Gain: 1000 feet 
Difficulty: Medium 
A Denver hike with dogs is incomplete without Mt. Galbraith Loop, especially to see Coors Brewery and southwest of Clear Creek Canyon. The panorama view is something you and your dog will love. Taking about 25 minutes from downtown Denver, Mt. Galbraith Loop has another mesmerizing view.
Behind Mt. Galbraith, it is a home of ponderosa pines where you can rest after hiking. The view of spruce and fir around rocky terrain makes it a perfect weekend plan with your dog. Bring an extra bottle of water because there is only one stream at the entrance of the trail.
8. Flatirons Vista 
Distance from Denver: 37 minutes drive 
Distance: 3.3 Miles 
Elevation Gain: 285 feet 
Difficulty: Medium 
Near Boulder, lies this picturesque dog-friendly hike which is decorated with wildflowers with stunning views and the best time to enjoy the sun sets behind the mountains. The hike is easy and flat which is great for small dogs. 
You can get amazing views of Doudy Draw from this dog-friendly place in Denver.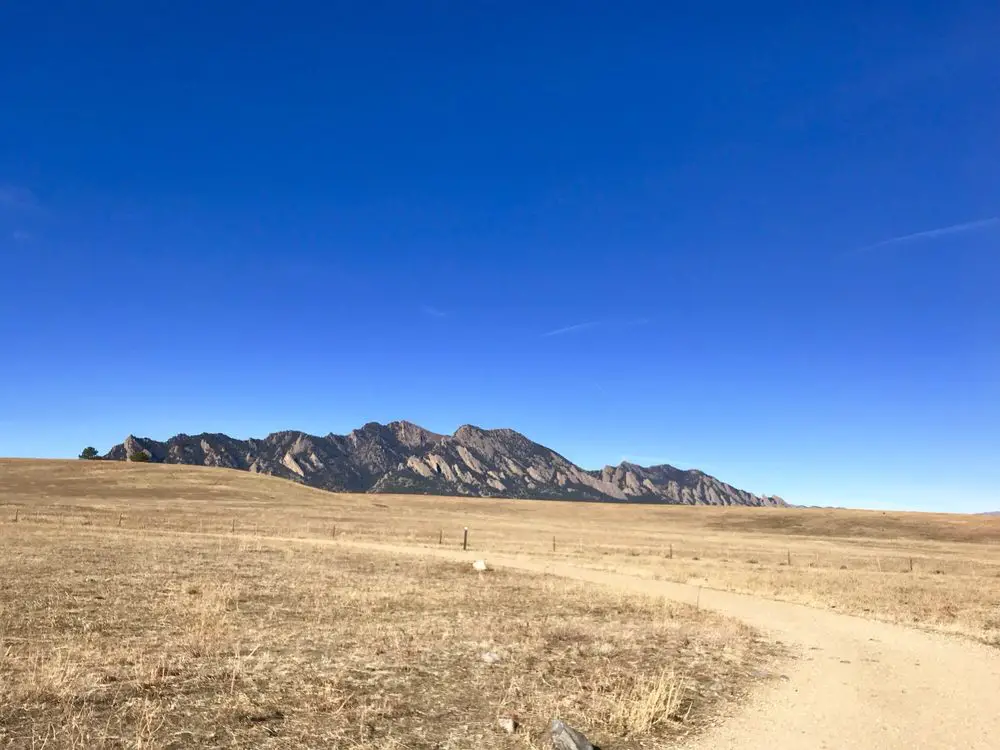 Dog-Friendly Hotels in Denver
After exploring dog-friendly hiking trails in Denver and enjoying the other outdoor activities your pooch and you might be very tired. But Denver is a great place that has hundreds of pet-friendly restaurants and dog-friendly hotels to stay.
Here are two dog-friendly hotels in Denver where you can reside. 
Holiday Inn Express Denver Downtown, an IHG Hotel: 
Address: 1100 14th St, Denver, CO 80202, United States
Hotel Teatro is a luxurious pet-friendly hotel in Denver that welcomes two pets of any shape and size for no additional fee. Pets like dogs and cats are allowed and they receive extra care from the property with treats, beds, and bowls. There is also a pet relief area on the property. 
La Quinta by Wyndham Denver Gateway Park: 
Address: 4460 Peoria Street, Denver, CO 80239
La Quinta Inn Suite Denver Gateway Park is another popular dog-friendly hotel in Denver that welcomes dogs and cats of all sizes and breeds. There are no restrictions; up to two pets are allowed per room at a very affordable price.
Exploring Denver hiking trails with dogs, or hitting a tried-and-true neighborhood loop with a dog feels different, it brings so many positive effects on your health. Traveling with dogs is so peaceful and also a great way to rebound with your friend. The above 8 Dog-friendly hiking in Denver are easy and perfect for weekend plans. 
Read Next:
FAQ – Dog-friendly Hikes in Denver
1. Can I take my dog to Red Rock?
A: Yes, you can take your dog to Red Rock till he is on leash. The terrain here is rough and the weather conditions change very frequently, so before hiking with your dogs get a dog umbrella with you. 
2. What are the off-leash dog-friendly hikes in Denver?
A: Green Valley Ranch East, Berkeley Lake Dog Park, Lincoln Park, Stapleton Dog Park, Washington Park, and Kennedy Dog Park are off-leash dog hikes in Denver.  
3. Is Denver a dog-friendly city?
A: There are many places like Bard Creek, O'FallonPark's West Ridge Loop, and Matthews-Winter Park are some of the best hikes with dogs in Denver. Denver is a pet-friendly place. 
4. Can you hike with dogs in Colorado?
A: Yes, there are many dog-friendly walks in Denver, Colorado. Clear Creek Canyon, Lake Trail, Dillon, White River National Forest, and a lot more are peaceful and perfect for hiking with dogs.