3 Best Dog-Friendly Beaches in Naples, FL with Hotels & Restaurants
Getting those sunkissed photos and basking under the sun on beaches is super fun. But your time can be even more pleasurable when you have your pet friend with you. The beautiful city of Naples is famous for its pristine beaches and blue waters. But what makes Naples even more interesting is that it has got tons of dog-friendly beaches in Naples.
So, if you are wondering where you can take your dog for a nice day out, visit one of the dog beaches in Naples and give your doggo some much-needed love. Spending a day on one of the pet-friendly beaches in Naples can be a refreshing change for your pet as well as for you.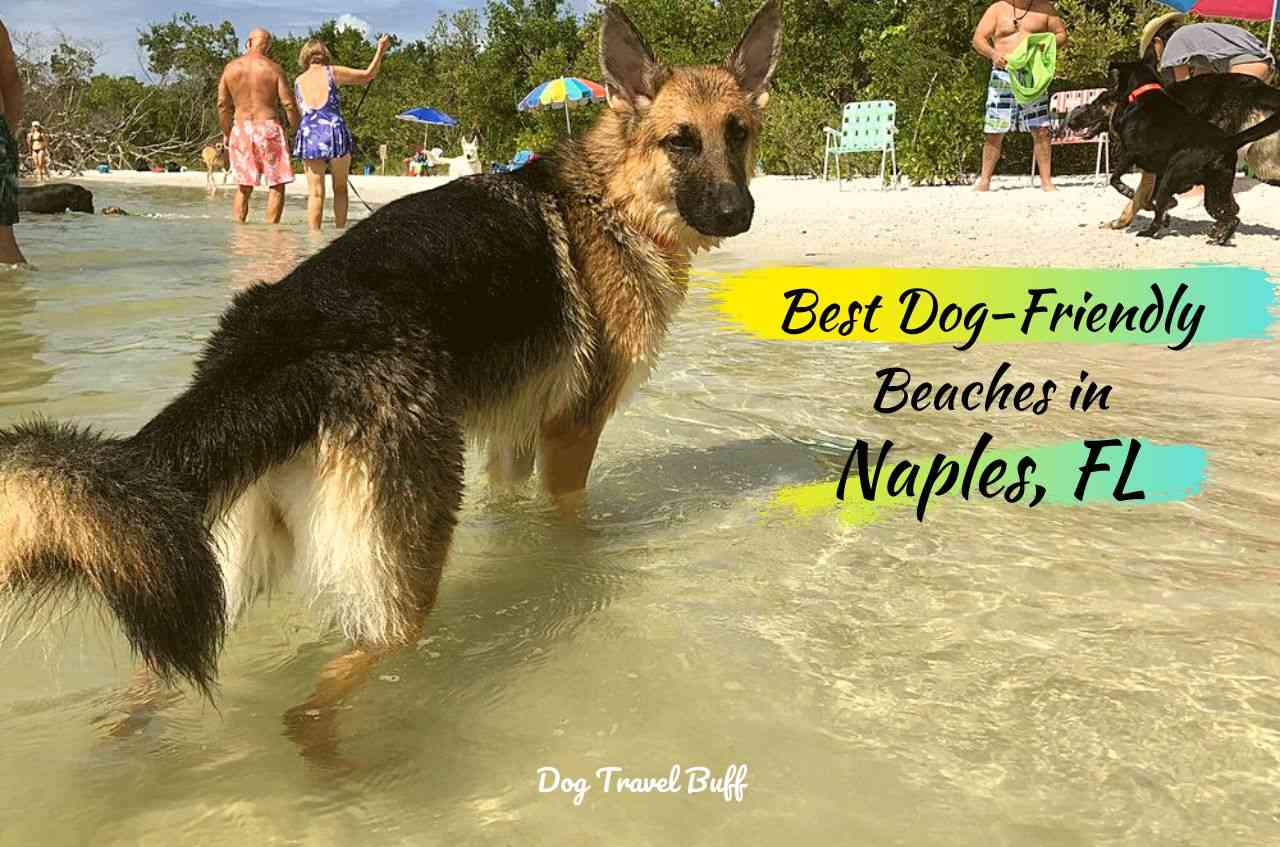 This post may contain affiliate links. If you buy something through one of those links, you won't pay any extra penny, but I'll get a small commission that encourages me to deliver more helpful content for you.  
Stop searching for the Naples dog-friendly beaches as our guided list will help you to choose the best dog beach for your pet companion.
Top 3 Dog-Friendly Beaches in Naples
If you are thinking about what beaches are dog-friendly in Naples, then hop on to the list and find the best Naples beaches that allow dogs.
1. Keewaydin Island
The pristine, white sands of Keeywaydin Island make it the ideal place for your dog to spend some quality time in the lap of nature. It is one of those dog-friendly beaches in Naples Florida that can be accessed by boat only.
The facility of the Hemingway water shuttle makes it extremely easy to reach this private island beach and the best part is that you can safely travel with your pet dog. Since the island is seated beautifully between Naples and Marco Island, it makes for a perfect spot to unwind in nature.
Due to its exclusive location, Keeywaydin Island is super clean and allows you to soak in the beauty of nature. Spend time with your dog watching the sunset or just chilling by the sea.
Shelling and swimming are two popular activities on this island. Also, as this receives less footfall, you can have the best experience with your dog. The secluded location of the island allows your dog to be free from crowds or any other troubles.
There are no restroom facilities available at Keewaydin Island.
Pet Rule:
Always keep your dog on leash even on water.
Follow the marked trail.
Make sure to pick up after your dog.
Tips:
Rent a boat from the rental service available. The fees renegades between 30-40$ for to and fro. Your pets can travel for free.
Summer is the perfect time to take a deep dive in the water because of its temperature.
Keewaydin has a lot of food boats floating around helping the hungry visitors. Make sure to grab some good food while you are there.
Keep a shelling bag and a shelter like a dog umbrella to beat the heat as there are no such facilities.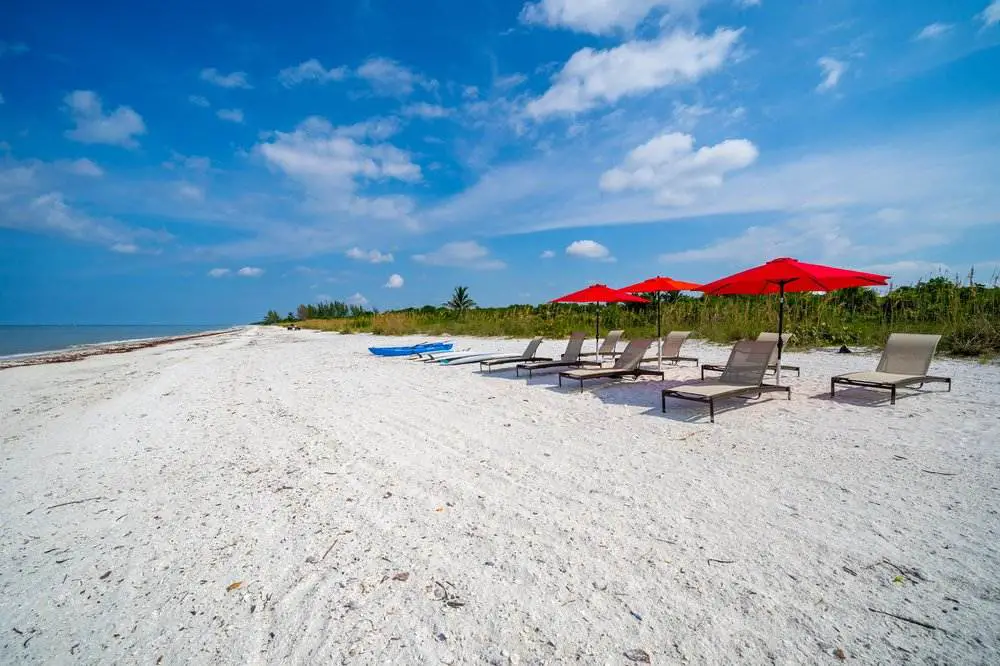 2. Bonita Dog Beach
Another dog-friendly beach near Naples is Bonita Dog Beach which is filled with tons of dog-friendly activities. Also, if you are on the hunt for an off-leash dog beach in Naples, Bonita Dog Beach or Lee County Dog Beach is your perfect option to explore. The beautiful beach is the perfect spot for your doggo to roam around freely.
As the beach allows your dog to be leash-free, it can easily take a dip in the shallow waters. Your dog will love to play in the water and it will get other companions also in the water. Apart from that, the water usually remains calm throughout except for high tides which makes it safe for your dog to swim.
Bonita beach has tons of facilities. There are showers for your dog planted on the beach, so make sure to give nice a wash after all it's fun on the sand. Trash containers are available at the beach too.
Visitors flock around here to watch beautiful sunsets. With a Florida fishing license` one can even indulge in some fishing here. Parking is totally free.
Pet Rule:
You can keep your dog off-leash.
Carry waste bags for your dog and clean up.
Per person, only two dogs are allowed.
Aggressive dogs are recommended to be kept on leash.
Tips:
The beach has no washrooms. Only a portable toilet is there.
Bring enough water for your dog as it will get tired after all the running and swimming.
Weekends can be crowded, so plan accordingly.
The beach does not allow any alcohol or glass containers.
Sit back and relax on the sandbars present on the beach.
The beach is not visible from the main road so keep your eyes open for the signs that lead to the dog beach.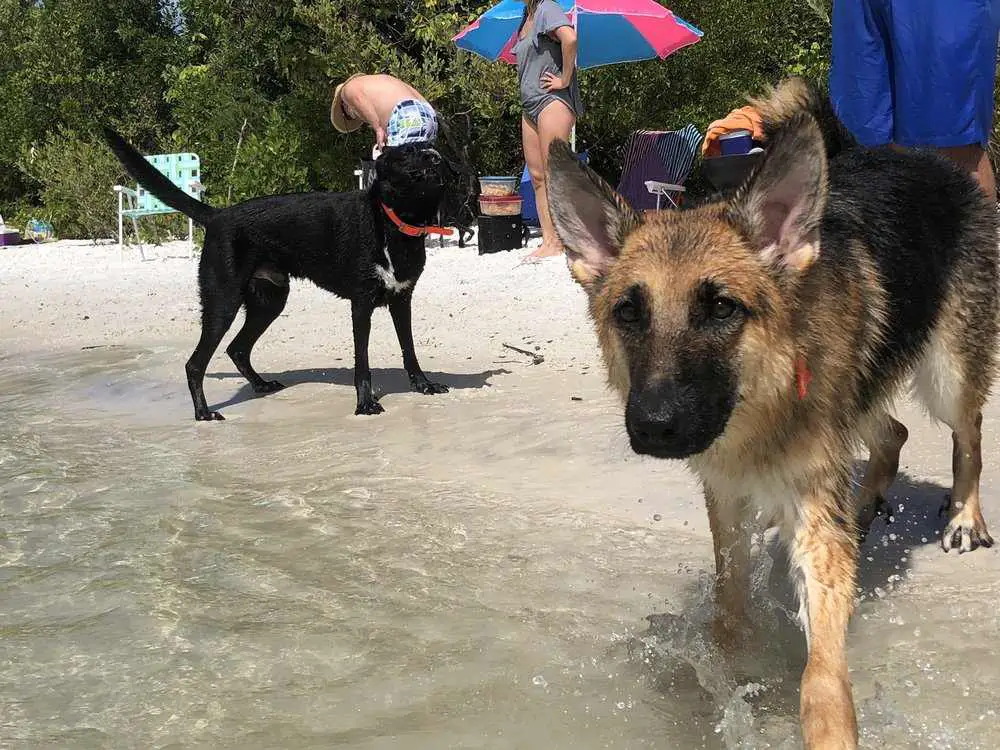 3. Delnor-Wiggins Pass State Park
Delnor-Wiggins Pass State Park is one of those pet-friendly beaches in Naples that offers stunning views of the Gulf of Mexico. The long stretch of beach coupled with the amazing scenic beauty makes it a popular destination for tourists. You can bring your furry friend to indulge in the beauty and other activities like birdwatching, fishing, shelling, or for a picnic.
The beach does not allow dogs, but your dogs can take a stroll on the nature trail in the park. At Delnor-Wiggins Pass State Park, your dog can swim in Water Turkey Bay. However, dogs can only be on leash, so make sure you accompany your dog even if they are in the water.
The beach has plenty of facilities so you are surely going to have an engaging time here. Boating, hiking, scuba diving, snorkeling all sorts of outdoor adventure is available to indulge yourself. Restrooms, picnic tables, and outdoor showers all are present at Delnor-Wiggins Pass State Park making it a favorite dog-friendly beach in Naples Florida among tourists.
Parking is available and it costs $6 per vehicle. For two-wheelers, the parking fee is $2.
Pet Rule:
Dogs have to be kept on a 6-foot leash.
Only well-behaved dogs are allowed at this beach.
Pet owners should always accompany their pets.
You can not take your dogs to the restroom or to the concession areas.
Keep waste bags with you and make sure to leave the beach clean.
Tips:
Carry dog treats and water with you.
Make sure to carry food and other necessities if you wish to have a picnic there.
Parking fees are taken either by credit card or exact change.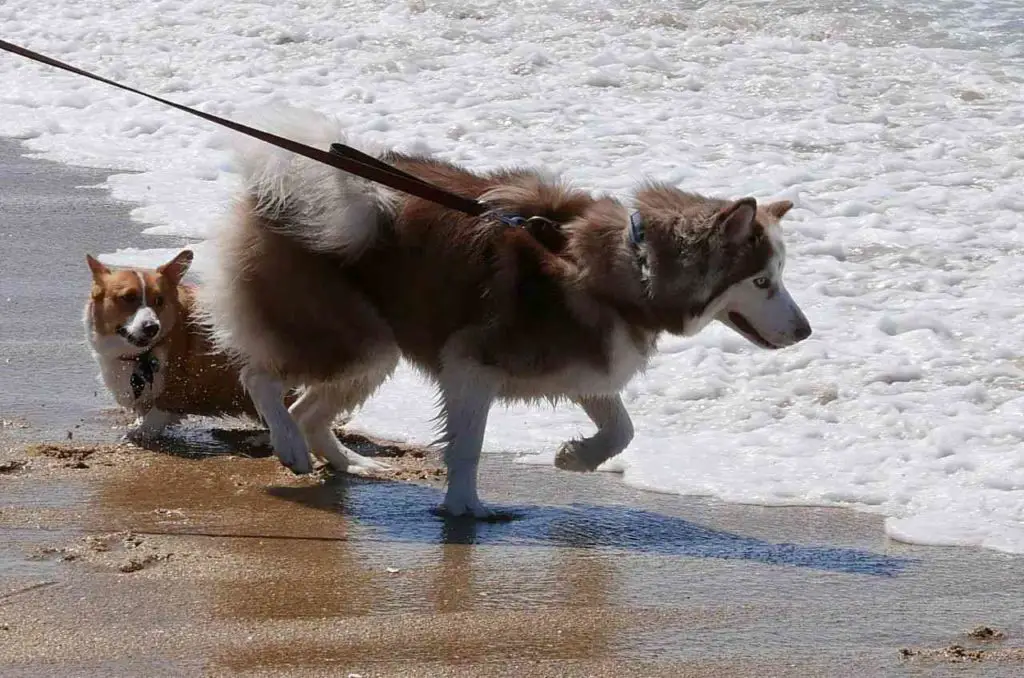 Dog-Friendly Restaurants in Naples
M Waterfront Grille
Enjoy shrimp, crab spring rolls, pasta, and other delicious foods with your dog. The outdoor seating area is perfect for you to indulge in the food and the views.
Naples Flatbread and Wine Bar
Try some gourmet pizza, pasta, chicken wings and Norweigan Salmon at this restaurant. The outdoor tables allow your dog while you satisfy your taste buds.
Pet-Friendly Hotels in Naples
Naples Bay Resort offers awesome views of Naples Bay and the hotel offers all sorts of modern facilities. Keewaydin Island is easily accessible from this hotel and your pets are most welcome here.
You would love your stay at the Gulf Coast Inn Naples because its superb facilities and its dog-friendly premise make it the perfect vacation spot for you and your pet companion.
Final Words
Plan your next vacation with your dog to these dog-friendly beaches in Naples and you are bound to have a great time with your furry friend.
Read Next: